Hello, I'm new to the forum but not new to detailing. I was asked to write a review on Turtle Wax Professional's ceramic paint protection. Here it is…
Foreword:
Continuing on from my perspective of product reviews that should be done on more than one car, because of the varying factors associated with each detail, the following review for Turtlewax Professional's new ceramic coating was tested on
the same candy apple red Nissan GTR35, as well as the white Porsche 911 Carrera GTS from the review of TW Pro's paint correction compounds.
A big thank you to Pravin, from Crazy Detailer, for the privilege of conducting this review; to Mark from TW Pro for supplying the product; and to some amazing clients with some incredible machines.
Lastly, I was not offered any form of incentive for this review from either CD or TW Pro.
P.S. Here's a shot of myself working on the GTR for good measure:
The Product
Turtlewax Professional Paint Protection
I have extensive experience with ceramic coatings, and so with no "how to apply" manual in the box, I approached it in the same frame of mind as I have with the "others". However, this coating doesn't exactly follow the book when it comes to how drying and curing (or at least the ones I've worked with) takes place after application.
Let's start at the beginning…
What's in the box:
One 100ml plastic bottle of Pre Clean
One 60ml glass bottle of professional paint protection
One yellow lint-free pre clean towel (since the first detail, these have been replaced with a yellow microfiber towel)
One grey microfiber buffing cloth
2 white microfiber application bonnets
One pair blue gloves
Already those of you with ceramic experience are looking at this list with a kind of blank stare reminiscent of being in your mathematics final exam and the paper has more Greek letters than numerals.
All the ceramics I've used have a high density foam block that you place a suede cloth over the top and apply the product systematically over the cloth, so naturally I was a little taken aback by the little white bonnets and the fact that there were only two of them.
Side note: The yellow lint-free was kind of like holding a sheet of papyrus and while the idea was a novel one, I didn't get much joy from working with it. There was no pile in the towel and so it left ever-so-slight marring on the paintwork of the GTR35, which had to be corrected again. However, when I got to the Porsche 911GTS, TW Pro had replaced the lint free towel with a microfiber cloth which is so much better and safer. On the GTR35 I replaced the towel with a microfiber towel immediately after I noticed the slight marring.
The application process:
Having made sure that the paintwork on both supercars was as close to mind-blowing as humanly possible, I took out the microfiber towel and began wiping down the entire surface with the TW Pro Pre-Clean solution to ensure the surface was perfectly free from compound residue.
Next, the first bonnet was rubbed over with my hand to remove any loose lint before the application began and the bottle of ceramic was opened.
Holding the bonnet over my hand (I personally will only use nitrile gloves when working with chemicals, regardless of what is supplied by the manufacturer) I placed the open bottle against the bonnet and flipped them 180º to wet the surface with product (I'll call it a TiltFlip, just because). Seeing as though the bonnet has a thin layer of foam inside, there is a small bit of wastage, but this is barely noticeable considering how much product was supplied.
The bonnet was then applied to the surface of the GTR35 in even strokes along the bodywork in a manner that is inline with the flow of air over the paintwork.
It flashed incredibly quickly and left small droplets across the surface of the paintwork where I had applied it. Honestly, this didn't fall in line with previous experience and this wasn't the way to approach it. I called Mark. We laughed and chatted and he gave me a run-down.
This is not a ceramic that turns into a honey-like substance when it begins to dry. You don't have to work like a maniac to remove the residue and you don't have to buff the surface until you risk dislocating your shoulder to get a deep gloss. This stuff is just sheer madness in composition.
How to apply TW Pro ceramic:
Fold the supplied grey microfiber into quarters to give yourself 8 clean surfaces to work with as well as a softer touch.
Apply one TiltFlip to the bonnet and close the bottle.
Work the primed bonnet a half a panel at a time in the direction of airflow.
The product will flash pretty quickly and leave little droplets on the surface.
Allow to dry for 2 minutes and then remove the residue with one side of the supplied grey microfiber.
Flip the microfiber and buff.
Apply two TiltFlips to the bonnet and close the bottle.
Apply the product to the same area and then leave to dry for 10-15 minutes.
Remove any residue with one side of the microfiber and then flip to buff to a high gloss.
Work one panel at a time and repeat until you've done all painted surfaces.
Close up of what the beading looks like when the coating starts to dry-
Then use the same bonnet to apply to exterior glass (with no wiper blades).
Take the second bonnet and start with trim and then finish off with rims in the same time increments as applying to paintwork.
To confirm, this product can be used on painted surfaces, trim, exterior glass (that don't have wiper blades), and rims. To be honest, I didn't really get much joy from it as far as trim is concerned.
So far it's apparently been tested to 8H+ in Australia and they couldn't test higher than that because they didn't have access to a sufficient machine.
TW Pro also rate it to 5+ years, but this is obviously yet to be personally experienced.
Technically, you should be a certified detailer to apply this product so from what I understand it will not be available for purchase at Crazy Detailer.
Conclusion:
Would I use this product again? Yes, and I have been.
Since the GTR35, I've used it on the Porsche 911GTS, a Porsche 911 Turbo S, a 2016 VW Amarok, and have a Ferrari 458 Spyder and Porsche 911 Carrera S lined up for the same treatment.
All of them have come out completely beautifully and the product has been an absolute breeze to work with.
Obviously the longevity, beading, hardness and overall protection is yet to be put to the test from a real-world perspective, but it looks positive from the onset.
Unfortunately, the GTR was not available for professional final photographs and their were time constraints with the 911 GTS, so these are the only final photos I have from both cars taken with my iPhone: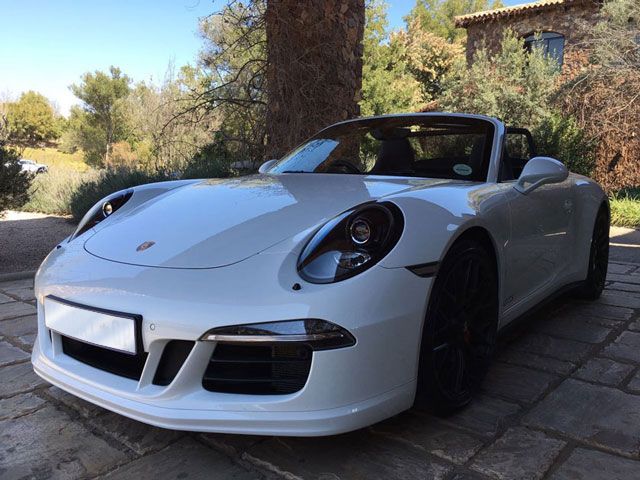 Cheers,
Nic.
Creative Thinker
Communication Designer
Car Detailer